Australia smashed England by 72 runs in the second ODI in Sydney to seal a series victory by one match.
Chasing 281 to complete the three matches, England recovered from 0-2 to 34-3 thanks to a 122-run partnership between James Vince (60) and Sam Billings (71).
But Josh Hazlewood (2-33), coming in as Australian captain Pat Cummins, bowled Vince lbw to break the tie and trigger a collapse as England slumped to 208.
Mitchell Starc (4-47) and Adam Zampa (4-45) played with the ball for the hosts, Starc losing both Jason Roy and Dawid Malan for ducks to open England's reply.
Earlier, Steve Smith's 94-and-a-half from Marnus Labuschagne (58) and Mitchell Marsh (50) took Australia to 280-8 from their 50 overs, with Adil Rashid (3-57) the pick of the bowlers to England.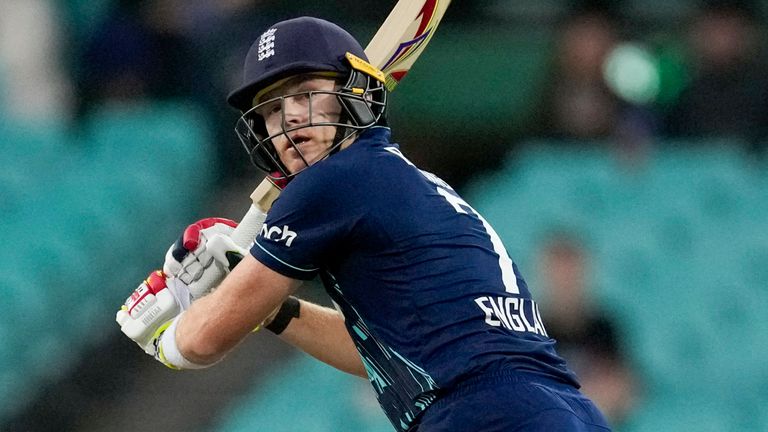 Roy is back | Vince and Billings are impressed
England recalled Adil Rashid, Sam Curran, Chris Woakes and Moeen Ali from Thursday's six-wicket defeat in Adelaide. Moeen led the visitors for the first time in an ODI with Jos Buttler being rested.
Australia also had a new captain, with Hazlewood deputizing for Cummings, who took two wickets to seal his first win as captain.
England got off to a terrible start in the chase, losing two wickets in the first over.
Starc found the wicket of Jason Roy with the second ball and then bowled Dawid Malan with good power, and both batsmen took off for ducks.
Phil Salt and Vince inspired the innings, with the openers finding boundaries regularly. But Hazlewood had his first wicket as captain in the fifth over.
Salt looked to have made room for himself in the side, but it was not a good shot, and he lost his leg stump after hitting 23 runs from 16 balls.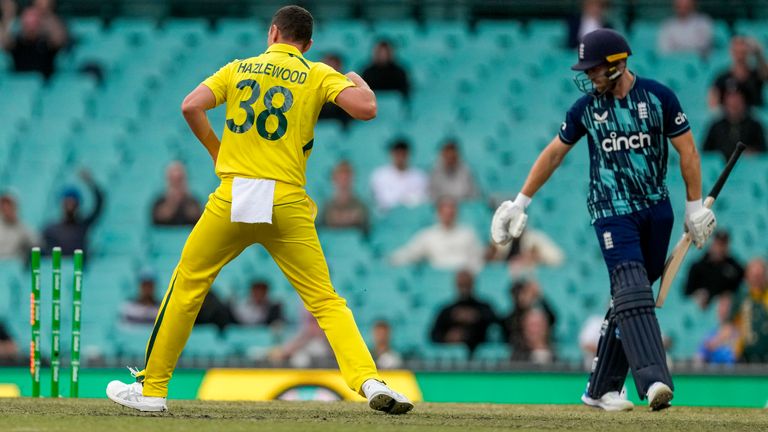 Zampa and Starc star with the ball
England were sorely lacking in unity, and that's what Vince and Billings did. Both hit sixes as England challenged, sharing a century partnership.
Vince hit 60 from 72 balls as he helped England rebuild after losing an early score but with Australia looking to improve, Hazlewood prevailed and DRS ruled Vince out on the call.
Moeen hit back-to-back boundaries off Zampa, but was tricked by errors and got out for just 10 runs.
Zampa then bowled Billings (71), who wanted to drop to mid-on, to change the game for Australia. He was two wickets from the end, when Curran looked for a big shot but only found Hazlewood.
Zampa took his third wicket in two overs, knocking Billings to his knees and England lost four wickets for just 13 runs at the collapse of the middle overs.
Starc then bowled Woakes and Willey with England needing less than 100 runs to win. Zampa took the last wicket of Liam Dawson, which was ruled a leg after a DRS review.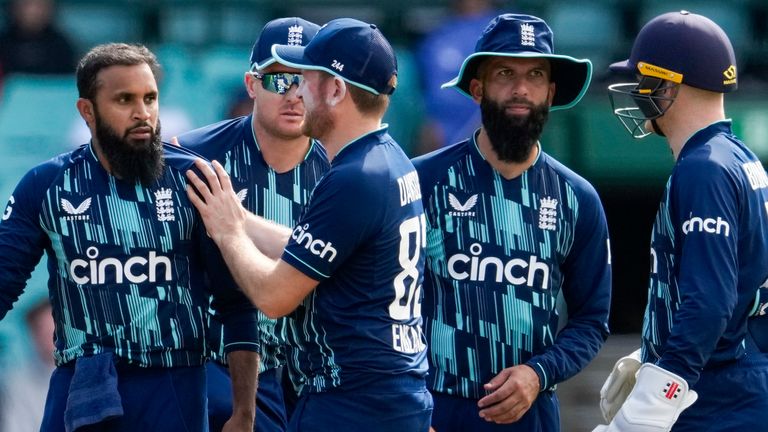 Rashid shines in England
David Warner (16) and Travis Head (19) gave the visitors a good start, taking Australia to 33 before Moeen's fifth wicket.
Smith continued his good form from the first match, hitting 94 off 114 balls. He shared a century with Labuschange (58) and an 80-run partnership with Marsh (50).
Rashid was the pick of England's bowlers, finishing with figures of 3-57.
With the hosts racing to 33 without loss, Moeen brought himself to the plate, a decision that was vindicated when Warner swept to Dawson inside the ring at square leg.
Woakes was expensive in his first three overs, scoring 20, but he strengthened and used changes to keep the score down.
But a quick run up the pitch helped Head, whose shot caught the edge and flew past Moeen at midfield.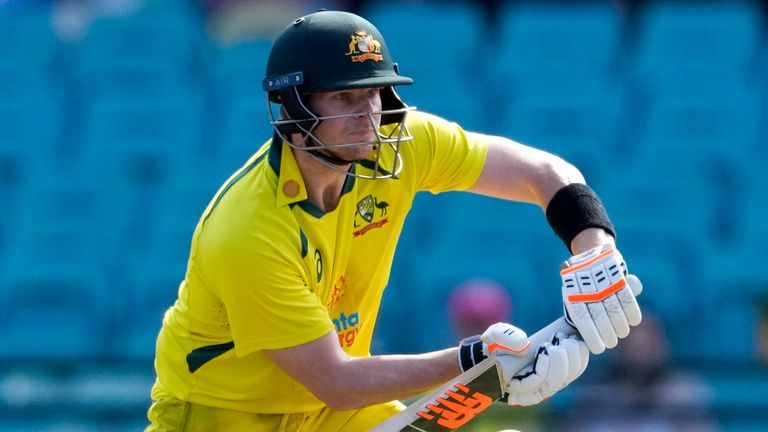 Smith is falling close to a century
Smith set up the innings, while Labuschange got off to a quick start, whipping Moeen over the ropes for a six off his second ball.
He used his feet well against the runners, hitting 58 from 55 balls, but Rashid did well when Labuschange tried to shoot, only to go to mid on.
The leg-spinner had two balls in two balls, when Alex Carey missed a through ball and was tripped by Billings, who stood with the gloves in Buttler's absence.
With Australia slipping to 144-4, Smith went on the attack, hitting Rashid and Dawson for four, before hitting Curran at deep leg.
He looked on course for a commercial century, but was run out in Rashid's final over, six short of his 100.
England restricted Australia in the last 10 overs, and Woakes bowler Stoinis and Willey took two wickets in succession in the 49th over.
But late arrival Ashton Agar, who hit 16 off Curran in the last over, took Australia to a respectable total of 280.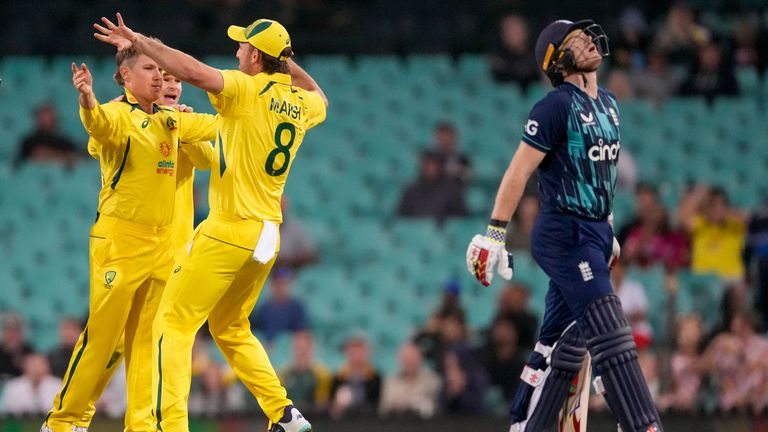 Billings: Early wickets set England back
Talking with sports, England's Sam Billings said: "The early goals put us back on and we had to rebuild. I think Australia's goal was the highest score of the game.
"It was two beautiful and up-and-down points. It was really embarrassing for Vincey and I couldn't go on for another 10 rounds. It was disappointing.
"For more than half of the team that's obviously been here for a long time, it's looking to build momentum for the finals.
"For the players who didn't get a chance and came in last week, it's a big opportunity for us to say we have some strength in the squad. It's not every day you play at the MCG against Australia so there should be no lack of ambition.
Zampa: Australia are playing 'very good cricket'
Adam Zampa took four wickets, including the formidable Billings to start the collapse.
Talking with BT Gameshe said: "It's winning a couple of matches against a very good team, so it's important for us. We feel like we've played some very good cricket.
"We got a couple of wickets at the right time. It was difficult for England to come back after the World Cup, but it was good for us to beat a good team."
What's next?
The ODI series ends in Melbourne on Tuesday, with England returning to the T20 World Cup. Jos Buttler's team will be hoping to avoid a clean sheet in their last game of the year.
Game 3 kicks off at 3.20am in the UK, with full coverage of the match on the Sky Sports website and app.