Nathan Tella scored a superb hat-trick to help Burnley cruise to a 3-0 Championship win over Lancashire rivals Preston at Turf Moor on Saturday afternoon.
Tella, a 23-year-old loanee from Southampton, was labeled a "diamond in the rough" by manager Vincent Kompany last week after impressing for the North West.
And the Clarets manager will be more than happy to follow Burnley's performance around the corner which shows why they are leading the way in the Championship this season.
Burnley entered the competition looking to equal their 1913 record of 10 straight league wins and just two defeats in 30 and this time, the Clarets started the game healthier than any Championship side since Reading in 2005-06 – who. he went on to finish with an impressive 106 points.
The result was too good for Kompany's side, who look like a different team this time around.
And when Tella took the match hard, there was only one winner.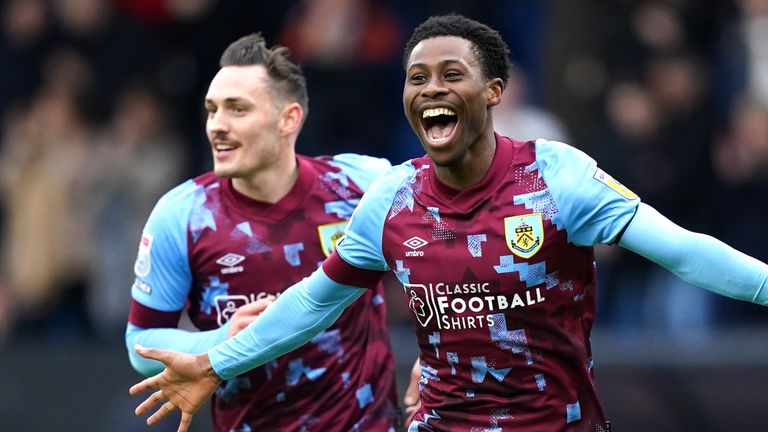 Ryan Lowe's Preston side are worst at home this term but have moved a short distance down the M65 thanks to a league-leading eight-game winning streak this season.
They didn't panic at Turf Moor in a thrilling opener full of commitment from all sides.
The Clarets had the lion's share of the early buys and the way they spread the ball around is testament to their confidence and Kompany's efforts in the training ground.
However, both teams lacked the intelligence to kill in front of goal until Tella headed home after 15 minutes.
Preston failed to clear Josh Brownhill's corner and when Brownhill had a second chance to deliver the ball into the box, he picked out Tella who couldn't have missed from five yards.
As Burnley progressed in the game, the difference between the two sides became apparent.
The Clarets continued to dominate and it took a good block from Freddie Woodman after half an hour to keep out an Ashley Barnes header that would have extended the lead.
Preston struggled to put the gloves on for the remainder of the first half and made little difference during the first few exchanges after the interval, as Kompany carried the heavy load.
After 51 minutes, Anass Zaroury had another try for the home side following a misguided Ben Whiteman pass, but Tella did well four minutes later, striking the ball from the edge of the box after turning the Preston defense inside.
His low shot curled just inside Woodman's near post and if that added to the buzz inside Turf Moor, his intensity after 58 minutes threatened to blow the roof off.
Tella stayed well to get through Woodman's legs to get his hat-trick and make it 14 goals in all competitions.
Burnley then saw the game end with a header performance that has become a hallmark of a season that should, end and return to the Premier League.