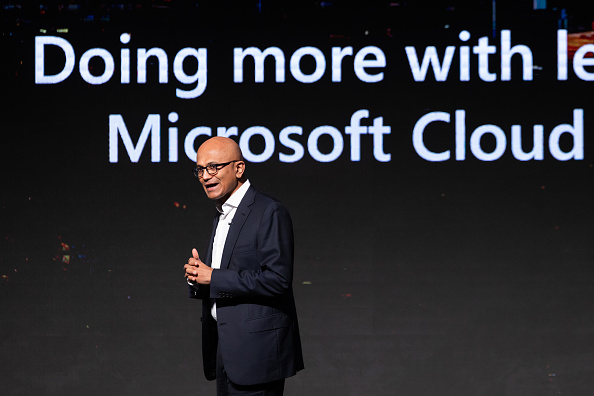 Microsoft (NASDAQ:MSFT) Chief Executive Satya Nadella wasted little time on Tuesday in putting the software titan's innovation behind him to artificial intelligence technology.
Speaking at a Microsoft conference (MSFT) second-quarter financial results, Nadella said the company's emphasis on AI is based on "transformation". [business] environment" that results from customers looking to get the most out of their investment in technology "based on [ongoing] economic uncertainty." Nadella said market realities have had a major impact on Microsoft's (Image of MSFT) which is very important.
"Maximum [business] value is created during market fluctuations," Nadella said.
Nadella's comments came a day after Microsoft ( MSFT ) confirmed it had invested "many, many billions" in OpenAI developer ChatGPT. Microsoft (MSFT) has not disclosed the exact amount of its funding, but various reports put it at $10B.
Last week, Microsoft ( MSFT ) said it would begin integrating ChatGPT into its Azure cloud offering. On Tuesday, Nadella said Microsoft ( MSFT ) has had more than 200 of its customers move to Azure and AI.
As for expanding the field of AI beyond Azure, Nadella left no doubt about where he sees Microsoft ( MSFT ) taking the technology.
"We believe that the next phase will be AI," Nadella said. "[With AI] The foundation of cloud computing changes dramatically. We fully expect to integrate AI into every aspect [Microsoft technology] fence."
Chief Financial Officer Amy Hood looked at how Microsoft (MSFT) expects business to improve in the third-party financial industry. Without providing specific earnings per share or revenue forecasts, Hood said Microsoft ( MSFT ) expects foreign currency exchange rates to result in "a three-point decrease in revenue."
Last week, Microsoft ( MSFT ) said it would lay off 10,000 workers worldwide, and charge $1.2B in related job cuts.