Mikel Arteta claims "different rules" were used which allowed Ivan Toney's form to stand up at Brentford and cost Arsenal a vital win.
Arteta's side should have moved eight points ahead of Manchester City's Leandro Trossard to put them ahead until Toney headed home from the penalty spot after a long-range check from VAR Lee Mason.
Brentford centre-back Ethan Pinnock looked out of place as he blocked Arsenal's Gabriel when a free-kick was awarded in the area for Toney to turn in a goal, with Arteta believing the rules were not used correctly.
FREE TO WATCH: Highlights from Arsenal v Brentford in the Premier League.

"I just looked back and it's offside," he said. "Perhaps we will explain it at the end of the week but we cannot find it today.
"Looking at the pictures, you have to use certain principles in defense and you do that by following the rules and suddenly you use different rules then you have to change your principles. So tell us in advance because then you don't hold the line. so because you will always have a chance if you are blocked.
"We were late, a goal was conceded, we lost two points."
Brentford boss Thomas Frank saw the incident differently.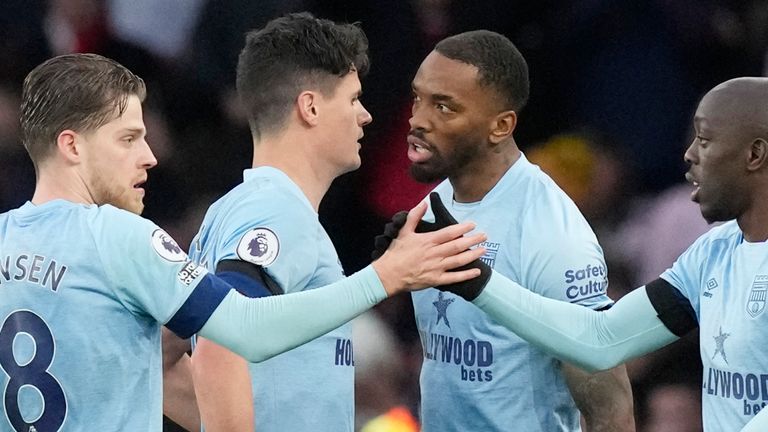 "Every week there are VAR decisions that go one way or another," he said. "I agree that when he kicks the ball Ethan is offside. As I know the rules of football, the next question is, did he encourage us to pass the ball? He thought it was not enough, I agree. !"
There was another offside question when Pinnock headed the ball to Christian Norgaard, who curled it in for Toney to beat.
"Second, I don't know," Arteta said. "You should see the line as seen by the camera. It's useless, it's gone."