In his latest Reporter, Sky Sports News' Keith Downie discusses Newcastle's Carabao Cup semi-final clash with Southampton as the club look to end their long drought.
Is this Newcastle's best chance to win since 1955?
It feels like talking to fans. I didn't show the club in the late 90s and early 00s but there is a real belief among the following that I haven't seen in ten years of showing this club.
I'm sure this was also evident in the Kevin Keegan years, when Newcastle were a fun, exciting team that could beat anyone on their day, but they also struggled with the mentality of dealing with the final challenge.
Tuesday 24 January 7:00pm

It starts at 8:00 pm

Although we don't know if this will be the case again with Eddie Howe, what we can say is that this team is made of strong stuff. It may not be the free-flowing football on display under Keegan, but Mr Howe has inspired something that many teams feel is impossible.
St James' Park has been the fortress that Howe was asked about in his opening press conference 14 months ago – he has yet to lose a game there this season – and he has assembled one of the best defenses in the country, conceding just 11 goals in 20 league games. Goalkeeper Nick Pope has nine clean sheets in a row.
Some highlights from the Carabao Cup quarter-final between Newcastle United and Leicester City

The combination of a defensive record and the fact that the second leg of the semi-final is at St James' gives supporters confidence that they can get past Southampton and reach Wembley – and then it's a matter of one game against the teams below. them in the table.
What's the weather like at St James' Park?
There's excitement and confidence, and that's something that's been missing for most of the year. Fans are excited to go to the game, the city is in black and white. A match day in Newcastle is now a big party and helps keep them from losing.
Watch the highlights from the Newcastle dressing room as they celebrate their 2-0 win over Leicester in the Carabao Cup.

As several fans have told me since taking it 15 months ago, 'I've got my life back'. Football is a matter of life and death for many Newcastle fans, it is ingrained in their DNA. For the 14 years of Mike Ashley's reign they were just there. Now they can dream again. They are approaching years of misguided dreams coming true.
The park team still has work to do, and the fans understand that. They have been here before. But for now, he's just enjoying every bit of the journey. If the club's new owners put an end to their protests at the beginning of their tenure, and earlier than planned or expected, who knows what will happen in the coming years.
Why would competition be so important?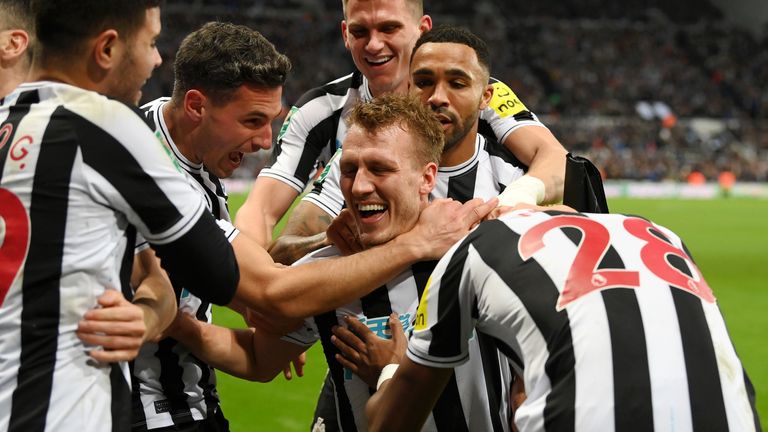 They are tired of being almost-men; brave losers. They want and deserve their moment in the sun. Newcastle fans for generations have never seen their side lift the trophy; an entire generation has not seen them compete in the semi-finals.
Mostly under Mike Ashley the team was told not to try in the cups. That's why, regardless of what happens at St Mary's, next Tuesday at St James' Park promises to be a very special occasion. The group, trying with every thread of their life, to solve the hoodoo. It's a feeling Newcastle fans thought was gone forever.
Can Toon fans claim the trophy by finishing in the top four?
Ninety percent of fans I've spoken to would rather win the Carabao Cup than finish in the top four. There is a feeling that getting the monkey off the back would be a big shot in the arm and they can build from there.
The new owners are not ready for Champions League football this year so Howe and his team will make it. Hard work will also be needed in the summer to build a thin squad if Newcastle are to qualify.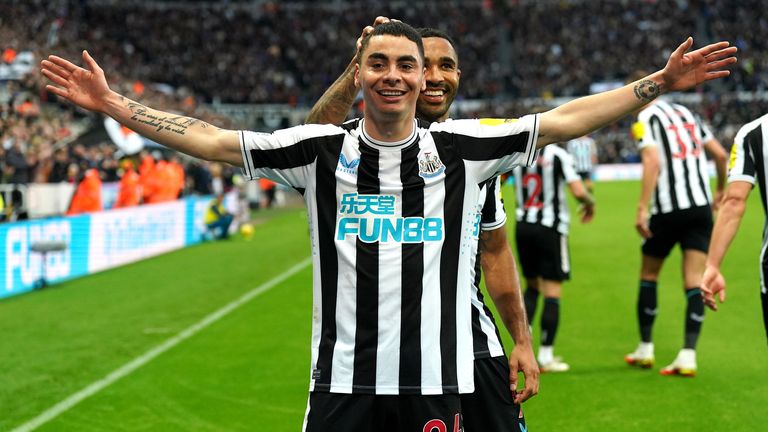 Six or seven ends can be natural and allow them to rotate instead of around. But try telling that to the Newcastle manager! He wants to target as much as possible, and his players are creating it.
But to the surprise of many who do not support the club, lifting the home trophy and ending the pain of 68 years and increasing the desire of the loyal fans of the club.
How will he manage the team's rotation?
FREE FACTS: Highlights from Crystal Palace's Premier League clash with Newcastle

Howe has gone as hard as he can at St Mary's so many, if not all, players have been asked to go again. He made a big change for Wednesday's FA Cup trip to Sheffield and Newcastle were kicked out – their second defeat of the season.
This result if anything shows the depth of the Newcastle boss' decline, but all the main players will play both legs – Howe knows the expectations of the fans are high.
I think they can freshen things up a bit by bringing in Allan Saint-Maximin and/or Alexander Isak from the start, but it won't weaken the team. If anything it will give you more risk. Also, I wouldn't be surprised if they play the team that started the last three games.
How has Howe's approach to the cup been during his time?
Howe has been strong in this tournament so far, especially against Bournemouth in the first game after the World Cup. He could have easily rested those who had just returned from Qatar (Papa, Schar, Trippier, Guimaraes and Wilson) but he decided to throw them back at the end of St James' Park as he knew the importance of the game. It was a similar story against Leicester in the quarter-final.
I think the weak team that lost to Sheffield Wednesday in the FA Cup was almost ready. Had the match fallen on a busy schedule they would not have made many changes. He felt it was important, and on the night Newcastle could have a championship.
As a result Newcastle now have a free week to settle between Southampton's midweek semi, so they can – and will – attack both with their strong team. I expect him to keep it tight at St Mary's, before taking the shackles off his players at St James' next Tuesday. Newcastle fans expect this and respect this.
Filming in Southampton would be great; everything else is a bonus. At home they will need a rested squad to finish the job with an incredible support from the Geordie faithful to lead them over the line and set up their first Wembley appearance since 2000.