Scientists have been very successful in reconstructing the history of this planet.
Sedimentary sediments from permafrost in Greenland contained biological DNA that could be traced back to about 2 million years ago. This is 1 million years old – DNA from a woolly mammoth that roamed the Siberian tundra 1 million years ago.
This amazing work has allowed a team of scientists to reconstruct the ancient landscape, revealing a world far beyond the frozen shores of the Arctic Circle.
"A new chapter in 1 million years of human history has opened, and for the first time, we can look directly at the DNA of an ancient ecosystem," says botanist Eske Willerslev of the University of Cambridge. UK and the University of Copenhagen in Denmark.
"DNA can degrade quickly, but we've shown that under the right conditions, we can go back much further than anyone could have imagined."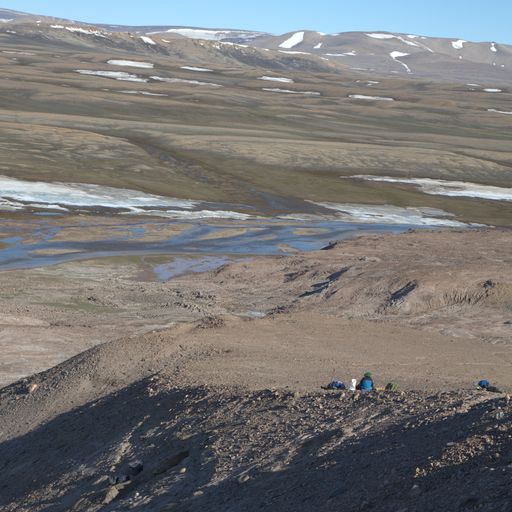 Times are not good for fossils; DNA will be damaged rapidly due to environmental stressors (such as pathogens), weather, and environmental conditions. If the ancient DNA survives, it is usually trapped in the teeth and bones, where it is protected.
But things buried under the permafrost are also protected.
Here, several samples collected from the ice and permafrost of Kap København, a geological formation at the mouth of a fjord in northern Greenland, gave scientists the opportunity to recover and reconstruct natural DNA from the past.
frameborder = "0" allow = "accelerometer; autoplay; clipboard-text; encrypted-media; gyroscope; picture-in-picture" allowed screen>
Scientists found many of these examples years ago in a project; travel is expensive, so scientists often collect more than they need, unless they need it. These models were in storage, waiting for the right project to come along.
"It wasn't until a new generation of DNA-sequencing tools that we were able to find and identify very small and damaged DNA fragments," explains geophysicist Kurt Kjær from the University of Copenhagen.
"It meant we were able to map 2 million years ago."
DNA was recovered from the samples after painstaking work that would have rendered them unusable a few years ago: The fragments were small, nanometers in length, highly degraded, and incomplete.
However, advances in genetic sequencing in recent decades have enabled scientists to create a large database of DNA from the world around us. These DNA libraries gave scientists a point to compare with their complex DNA fragments.
These libraries mean that scientists can quickly piece together the missing pieces of the genome of organisms whose genetics have been locked in stone for decades.
Kjær says: "Ultimately, the mud was stored in ice or permafrost and, hardly, was not disturbed by humans for 2 million years."
This reconstruction revealed a diversity of organisms that adapted to the unusually warm climate. Scientists found animals related to moose and caribou, lemmings, geese, rabbits, and interestingly the mastodon.
Ants, fleas, corals, and horse crabs also left their mark in the mud, as did birch and poplar trees.
The mastodon's DNA, the researchers said, is very interesting. All other species have relatives that remain in Greenland today; At first, it was thought that the mastodon was not as diverse in the north as in Greenland.
Other samples of DNA – extracted from pathogens and fungi – are still being identified. A future paper will describe the extent of the universe as scientists understand it.
However, some data have already been found that indicate a very warm climate in the region during the Early Pleistocene – much warmer than the current temperature.
They show, researchers say, the future of the Earth in the face of climate change.
"One of the most important things here is the number of species that can adapt to changes in conditions caused by extreme temperatures. The data shows that many species can adapt to different temperatures than previously thought," he says. geogeneticist Mikkel Pederson of the University of Copenhagen.
"But, above all, these results show that they need time to do this. The rate of global warming today means that species and species will not have that time, because climate change is still a major threat to biodiversity and the planet – extinction is near other living things, including plants and trees.
But for scientists, this work is very successful. Now that environmental DNA has been successfully extracted and interpreted from clay and quartz, it is possible to do the same with fossils from other places.
"If we can start looking for ancient DNA in clay grains from Africa, we can gather information about the origins of many species – maybe even new information about early humans and their ancestors," says Willerslev.
"The possibilities are endless."
Research has been published in Nature.