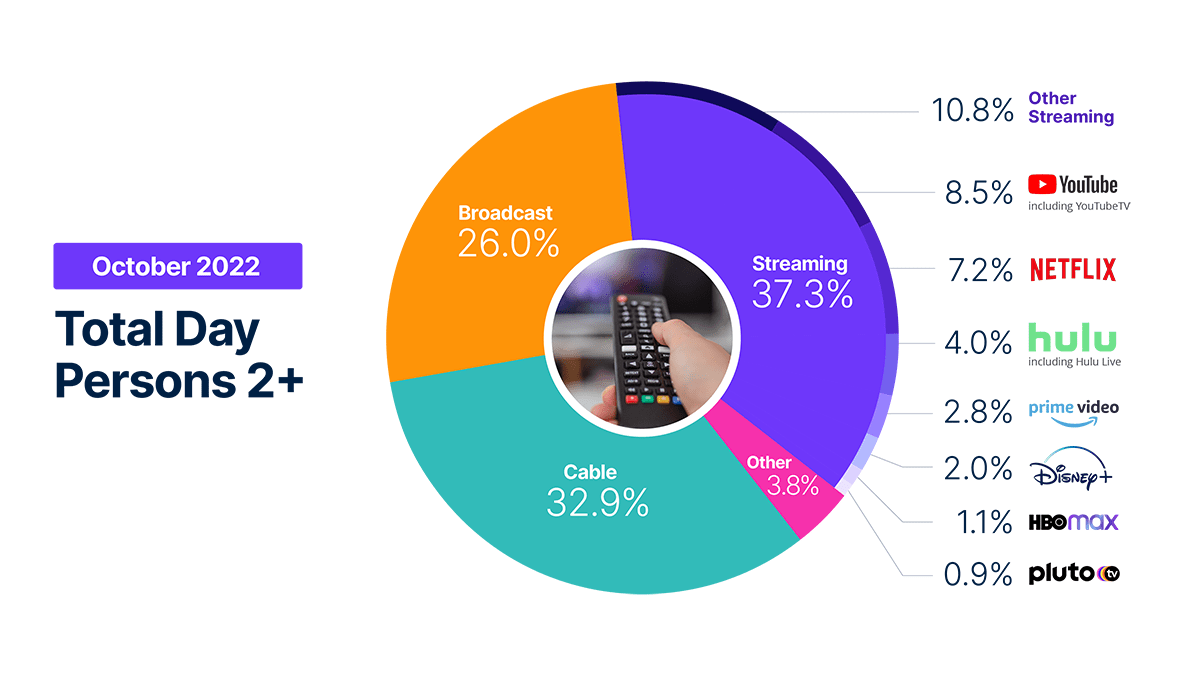 The ongoing television season means that television viewing is taking another hit, but that hasn't caused a stir, which has gained share as the leading TV consumption trend for the eighth straight month.
Full TV viewing it rose 2.2% in October after gaining 2.4% in September – and television viewing regained share, rising to 26% of television consumption from 24.2% the previous month, according to "The Gauge"From Nielsen, the giant looks every month at the TV delivery platforms.
This was due to the return of new fall programs along with the ongoing football season. Television viewing volume jumped 9.8% overall, with game viewing up 19% and average viewing jumping 42% from last month. However, television viewership fell by 6.2% year-on-year as part of a national slowdown.
And the streaming segment also grew, but at a slower pace – up to 37.3% of the total, again leading the overall usage. Additional Broadcast and Streaming segments came from Cable (which saw a cherry drop to 32.9% from 33.8%) and services "Other" – a group that mainly uses video games and also includes watching movies – which fell. 3.8% from 5.1%.
To view the streaming section, YouTube/YouTube TV (NASDAQ: GOOG) (NASDAQ:GOOGL) made its lead over other services (8.5% share from 8.0%) after taking the top spot from Netflix (NASDAQ: NFLX) last month. Netflix, on the other hand, dropped to 7.2% from 7.3% previously.
Disney services did well: Hulu/Hulu Live (NYSE: DIS) (CMCSA) was next behind Netflix, growing its share to 4.0% from 3.8%, while Amazon Prime Video (AMZN) fell to 2.8% from 2.9%. And Disney + (DIS) rose to 2.0%, from 1.9% last month. HBO Max ( WBD ) fell to 1.1% from 1.3%, and free ad-supported channel Pluto ( PARA ) ( PARAA ) fell to 0.9% from 1.0% last month.
"Other broadcasting" (including smaller services like Crackle ( CSSE ) and cable broadcasters like Spectrum ( CHTR ), DirecTV and Sling TV ( DISH )) also grew its share, to 10.8% from 10.7%.
The shift toward weekly streaming ratings, where Netflix ( NFLX ) may be slowly shedding shares to its competitors, continues with the most-watched programming. The supervisor (NFLX) is repeated in the most recent weekly numbers (for Oct. 17-23), with 2.595B minutes tracked, easily the winner. The School of Good and Evil (NFLX), with 1.058B minutes, and HBO Max's (WBD) Dragon House, boosted by the release of its final season ranked third and 1.013B minutes were played.
Dragon a competitor Lord of the Rings: Rings of Power (AMZN), which ended last week, fell out of the top 10.
Rounding out the top 10 were seven other Netflix titles: No. 4, sinner, 935M minutes; No. 5, Blacklist, 807M minutes; No. 6, NCIS, 796M minutes; No. 7, gilmore girls, 792M minutes; No. 8, Comeon, 757M minutes; No. 9, Love is Blind, 683M minutes; and number 10, Immutable Secrets, 672M minutes.
(Nielsen's streaming data now includes viewing from seven major channels: Amazon Prime Video (AMZN), Apple TV+ (AAPL), Disney+ (DIS), HBO Max (WBD), Hulu (DIS) (CMCSA), Netflix (NFLX ) and Peacock (CMCSA)
Pay TV distributors: Comcast (CMCSA), Charter (CHTR), Dish Network (DISH), Verizon FiOS (VZ), Optimum/Suddenlink (ATUS), Atlantic Broadband (OTCPK: CGEAF), Sparklight (CABO).
Relevant regional tickers: Nexstar Media Group (NXST), Sinclair Broadcast Group (SBGI), Gray Television (GTN), Tegna (TGNA), EW Scripps (SSP). National broadcasters: ABC (DIS), NBC (CMCSA), CBS (PARA) (PARAA), Fox (FOX) (FOXA). And some tech names associated with connected TV: The Trade Desk (TTD), Magnite (MGNI), PubMatic (PUBM), Criteo (CRTO), Roku (ROKU).