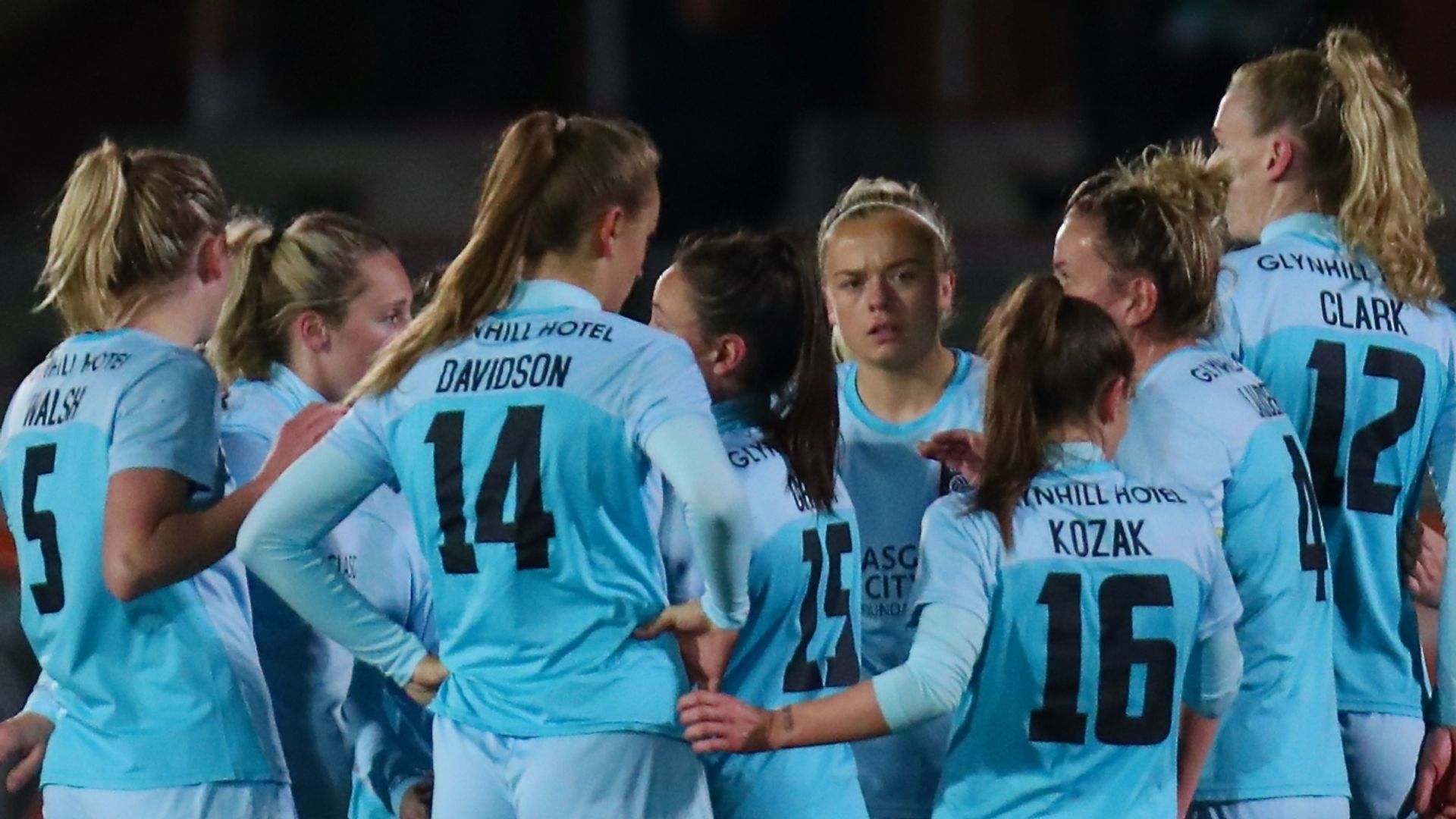 Glasgow City remain top of the Scottish Women's Premier League after coming from behind to beat Hibernian 2-1.
The hosts got off to a good start and almost opened the scoring when Hayley Lauder saw her long-range strike go past Bene Haaland in the Hibs goal, just wide.
Hibs took advantage of the break as Eleni Giannou found Michaela McAlonie who curled home just before the break.
However, the lead was short-lived as Lauder crossed for Scotland's Jenna Clark who opened the scoring for City shortly after the restart.
The turnaround was complete with less than 20 minutes to play when Mairhead Fulton – who had scored the last time the teams met – crossed from the spot where the ball left Liana Hinds and into her own net to give City all three points.
Glasgow City remain two points clear of Rangers who are trailing Hibernian in Sunday's Sky Sports Cup final.
Glasgow Women 0-10 Rangers
Rangers are into the Sky Sports Cup final after securing all three points against Glasgow Women.
Despite the close game, the Rangers fielded a strong starting lineup and were 8-0 at halftime.
Nicola Docherty scored the first goal after just three minutes, opening the floodgates at Alliance Park.
Colette Cavanagh hit a hat-trick while Lizzie Arnot's two, plus goals from Kathryn Hill and Kirsty Howat gave the visitors a huge half-time lead.
Docherty scored her second of the game after a break to make it 9-0 before Lisa Martinez completed the Gers' scoring.
The result leaves Glasgow Women still without any points this season, while at the other end, defending champions Rangers are still in the hunt for the second title behind Glasgow City.
Celtic 7-0 Dundee United
Celtic remain three points clear after a hard-fought victory over Dundee United at the Excelsior Stadium.
Any surprises were quickly quelled as Celtic went 1-0 up three minutes later through SWPL star striker Clarissa Larisey.
The home team went up 3-0 after 24 minutes through goals from Shen Mengyu and Amy Gallacher.
Mengyu completed his hat-trick late on, along with second-half goals from Tiree Burchill and Maria McAney.
While Celtic are still one point behind Rangers and two behind Glasgow City, United are ninth.
Aberdeen 1-1 Spartans
Managerless Aberdeen secured a spot in the SWPL for next season with a draw at home to Spartans.
Francesca Ogilvie gave the hosts the lead on 40 minutes as the Dons looked to make it back-to-back for the first time this season.
However, Louise Mason had other ideas as her long-range strike brought the sides within three minutes.
Aberdeen are now just one point behind Hamilton Academical in 10th and two points behind Dundee United in ninth, while Spartans move three points ahead of United and two points into the top six.
Midlothian Hearts 5-0 Hamilton Academical
Hearts ensured they remained fourth in the SWPL heading into the new year with a comfortable win over Hamilton Academical, ending Gary Doctor's 200th game in charge of the visitors.
Georgia Timms opened the scoring on 13 minutes, beating Chloe Nicolson to the ball and finishing well after Erin Rennie's cross.
Timms then turned the keeper, unselfishly slotting the ball past Cailin Michie after rounding Nicolson.
The final 22 minutes of the game saw Hearts score twice from Katie Rood, with Jennifer Smith scoring between the goals to seal a decisive victory.
Hearts move to 22 points and won't be caught by anyone below them until 2023, however, Hamilton has four games without a point and will have one eye on Aberdeen who are now close behind.